Three Innovative Towing Features in Chevy Trucks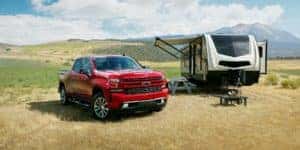 When it's time to explore Chevy trucks for sale, make Starling Chevrolet your dealership. We're excited to share the powerful and capable Chevy trucks in our collection. When you need towing, payload, or off-road driving capability, you're sure to find a model you love among our Chevy trucks, including the following innovative towing features. 
Trailer Side Blind Zone Alert
When we're trailering big loads, it can be challenging to see all of the hazards around us on the road. That's where the trailer side blind zone alert comes in. It gives a side mirror alert when a moving vehicle is detected in the blind zone of your trailer, so you can carefully navigate your truck in safety and comfort. This feature is most helpful in avoiding collisions when changing lanes.
Integrated Trailer Brake Controller
Trailer loads add more weight to our vehicle, affecting stopping distance and vehicle responsiveness. With the integrated trailer brake controller, which works with the anti-lock braking system, you'll experience a measured amount of brake force. You'll also have access to trailer gain and output information in the Driver Information Center, which can help you to adjust braking behaviors as needed.
In-Vehicle Trailering App
The Chevy in-vehicle trailering app gives you the extra support you need with every tow. It offers details and information to help you navigate with heavy loads, including trailer light sequencing, trailer mileage, trailer security alerts, and reminders for safer towing and hauling.
These are just a few of the exciting tow and trailering features you can check out in the Chevy trucks here at Starling Chevrolet. Visit our dealership to pick the perfect truck for the next big job today.