Make Chevrolet Service Your New Year's Resolution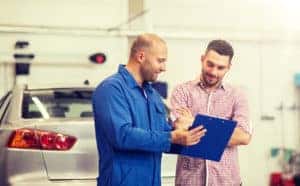 If you're looking for a Chevrolet service center near me, look no further than Starling Chevrolet. Our team of expert technicians will ensure you get the support and resources you need to care for your car and keep it in the best possible condition for a long time to come. Here's a closer look at why you'll want to make routine Chevrolet service your resolution for the new year. 
Benefits of Routine Service
There are many advantages to following a routine maintenance schedule, including some of the following:
Improved vehicle safety
Reduced repair needs and costs
Improved fuel economy
Maintained vehicle value for future sale or trade-in
Increased comfort and safety on every ride
Common Service Tasks to Schedule
It's helpful to know what services to schedule for the new year. While the service you need will depend on whether you're driving a gasoline-powered, hybrid, or electric vehicle, there are a few common service tasks that most gas vehicles will need, including:
Oil changes
Battery inspections
Brake pad replacements
Tire rotations, fill-ups, and service
Hose and belt inspections
Why Schedule Service at Starling Chevrolet?
Here at Starling Chevrolet, you'll find a wide inventory of Chevrolet models to serve you on many great adventures in the new year. But our job doesn't end when you pick out that perfect new ride. We're also the team you can rely on for expert service, parts, and car care. Our dealership offers perks, benefits, and tools, like an easy online service scheduler, multipoint inspections, and specials and deals on parts and services.
Start the new year off right with routine Chevy service from Starling Chevrolet. Stick to your new year's resolutions by scheduling a service appointment at our dealership today.