Best Chevy Features for New Drivers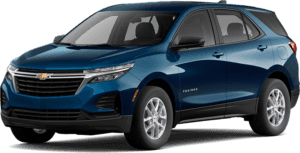 The best vehicles for new drivers are affordable, efficient, and — above all — safe. That's why new drivers and their parents are sure to love the lineup of Chevrolet vehicles available at a Chevy dealership near me. Their robust build quality and strong passive and active safety features keep everyone in the car safer.
Teen Driver System
The Teen Driver system in new Chevy vehicles is designed for first-time drivers so parents and teens alike can have peace of mind on every ride. It allows you to customize and track driving systems and behaviors, and encourages safe driving. You'll be able to enable available safety features that disable potential distractions to keep every passenger safe.
Braking and Collision Support
New drivers will have the support of brake assistance and warning features to protect them in busy cities and on local roads. With the ability to spot and address oncoming hazards, features like forward collision alert, enhanced automatic emergency braking, and front pedestrian braking are an extra set of eyes that can protect easily-distracted drivers.
Parking Support
If your new driver barely passed parallel parking, you'll be glad for features like the Rear Vision Camera and available Rear Park Assist. They're invaluable for helping drivers of all ages navigate crowded parking lots and tight spaces.
Additional Systems and Features
Ask your Chevy dealer about optional safety features available in new models. Trim-specific or optional features like parking sensors, adaptive cruise control, and park assist are worthwhile in their own right. Of course, there's no substitute for close attention and defensive driving techniques. However, even the most experienced drivers can use a helping hand to say nothing of someone who's just received their license. That's why you'll love the great features of the Chevy vehicles here at Starling Chevrolet.