Check Out the 2021 Chevy Express Cargo 2500 at Starling Chevrolet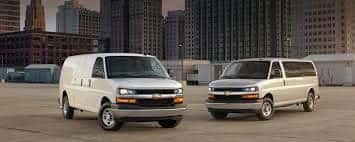 Whether you own a small business or just need to transport heavy loads, the 2021 Chevy Express Cargo 2500 is designed to make your life easier.
Many people looking for work vehicles are already familiar with our lineup of Chevy trucks for sale, but this cargo van gets the job done and has a host of other benefits. If you'd like to learn more about it, visit us at Starling Chevrolet.
2021 Chevy Express Cargo 2500 Details
When we tell new customers about this cargo van at Starling Chevrolet, the first thing we discuss is the vehicle's power and capability. The 2021 Chevy Express Cargo 2500 comes standard with a 4.3-liter V6 gas engine that delivers 276 horsepower and 298 lb-ft of torque. That's plenty of muscle for most jobs, but you can upgrade the engine to receive an incredible 464 lb-ft of torque if necessary.
The cargo van can transport large, heavy loads with ease. With its standard configuration, the Chevy Express Cargo Van can tow up to 7,400 pounds, and it has a payload of 3,280 pounds. The massive cargo area measures nearly 155 inches in length, so you can pack in lumber, furniture, heavy equipment, catered meals, and more! The 2021 Chevy Cargo Express 2500 is one of the most versatile models we sell.
2021 Chevy Express Cargo 2500 Safety and Special Features
Our Daytona area Chevrolet dealership is impressed with the safety and special features that come with the Chevy Express Cargo Van, too. A rear vision camera and available side blind-zone alert ensures that you're able to monitor potential obstacles and navigate busy streets safely.
We love the customizable equipment packages that are available, too. Whether you're an electrician, plumber, or contractor, ask about your options so that this cargo van is perfectly outfitted for your profession.
Buying a 2021 Chevy Express Cargo 2500
To learn more about the 2021 Chevy Express Cargo 2500, visit Starling Chevrolet today. Our Chevy dealers would love to tell you about all of the ways this cargo van can make your everyday tasks easier than ever before.
While you're here, feel free to explore the rest of our lineup, including the Chevy Traverse and Chevy Camaro.