Welcome to Starling Chevrolet of Deland
VIEW DISCLAIMER
HIDE DISCLAIMER
1.Excludes select base trims and 2020/2021 Bolt EV, Camaro, Corvette, Spark, Sonic, Impala Tahoe, Suburban, Colorado, Silverado LD and Silverado HD. Not available with special financing, lease and some other offers. Take new retail delivery by 5/3/21.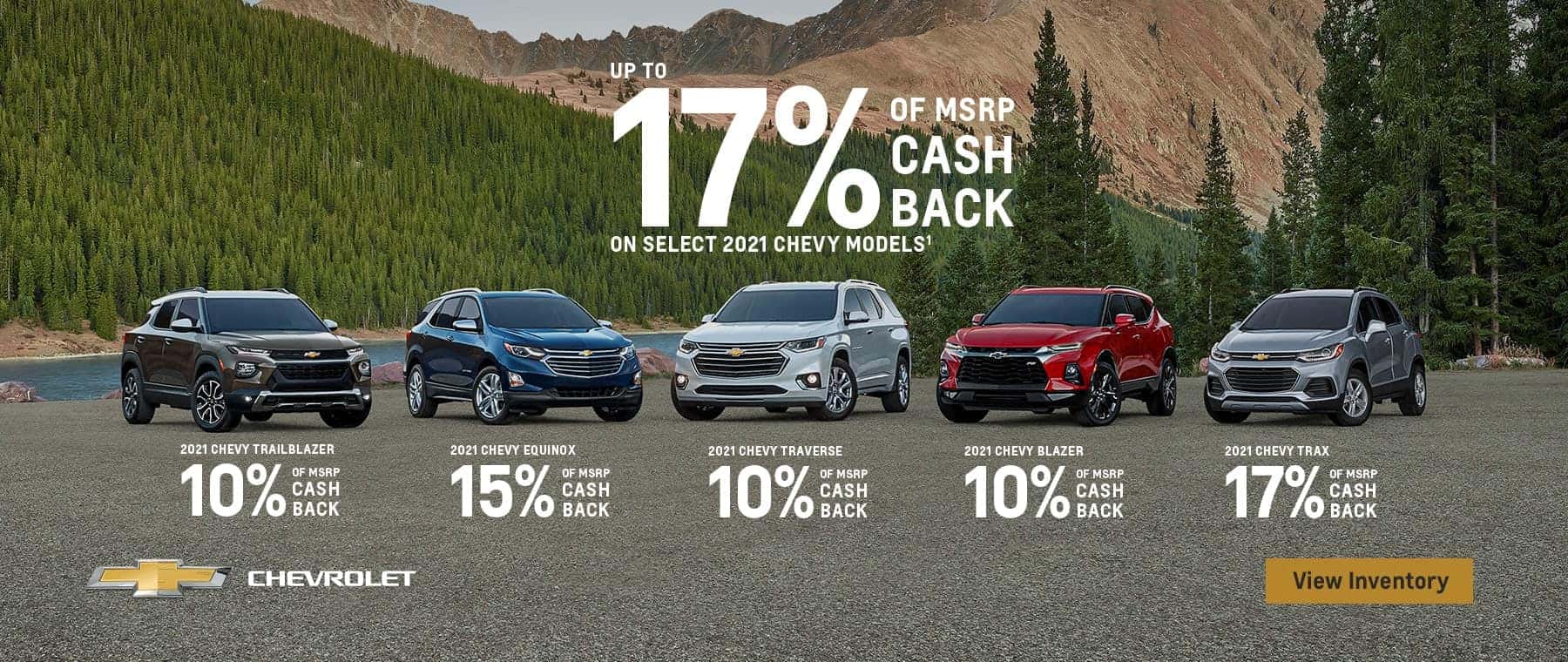 VIEW DISCLAIMER
HIDE DISCLAIMER
1. Not available with special financing, lease and some other offers. Take new retail delivery by 5/3/21.
VIEW DISCLAIMER
HIDE DISCLAIMER
1. Excludes L models. Not available with special financing, lease and some other offers. Take new retail delivery by 5/3/21. 2. Based on $36,445 MSRP. Not available with special financing, lease and some other offers. Take new retail delivery by 5/3/21.
VIEW DISCLAIMER
HIDE DISCLAIMER
1.Pre-production model shown. Actual production model may vary. Available summer 2021.
Find the Chevrolet That's Right for You
Certified Pre-Owned
Each Chevrolet CPO vehicle is thoroughly inspected, reconditioned, and includes two factory-backed limited warranties with roadside assistance.
Current Offers
View this month's current offers and promotions on select Chevrolet vehicles.
Our Reviews
Absolutely exceptional car buying experience. Starling went above and beyond, and I could not be happier in my 2021 Blazer. Just a great team of people who were so very friendly and personable. Thank you!
Tom Isaacson is a great guy. He is very knowledgeable and helpful. I would recommend him to anyone looking for a smooth and professional buying experience.
GREAT SERVICE, AND SALES SERVICE VERY PROFESSIONAL I'M BEEN A CLIENT FOR THE LAST 10 YAERS. I WILL KEEP USING THEM FOR MY FUTURE PURCHASES
Dustin, Toni, & Sammi made the experience very enjoyable. I recommend anyone considering a new or used vehicle do themselves a favor and visit Starling Chevrolet/Cadillac in DeLand. I can't say enough good things about them. We've going to them for about 10 years now and have never been disappointed.
My niece had to get the A/C fixed on her 2012 Equinox and everyone at Starling were so nice to my niece. Brent C. and the Service Department Team; clearly have a that Hometown Feeling. Therefore, this Marine gives Starling my motto: " OH YEA ! "
I have not bought a car here. But, I went to the parts dept. and dealt with Mark. He was very nice, and went out of his way to be sure he understood what part I was wanting. He even talked to a serviceman to learn more info for me. I appreciate his going the extra mile to help me get what I needed. As a former business owner, I know he is a big asset to Starling. I hope he reads this review.
No pressure, very patient. Looking forward to getting the same experience from their service department. Many thanks to Brittney, Angel, and Eddiie -you're awesome!
Purchased a new car for my wife. Dealership was Helprin everyway. I dealt with Rob Farish as salesman. He had a great personality and helped me in getting my best deal. I live 2 hours away and would drive it again to deal with Starling!! Thanks again Rob! Be Blessed!
The dealership made a mistake. They admitted the mistake, apologized, and offered to rectify the mistake . I focused on the mistake instead of recognizing this dealership and it's employees displayed qualities deserving of a 5 star review.
best dealership experience you can ask for. very professional service department. our service adviser Kyle was excellent at his job and made us feel very comfortable and well taken care of.
I have purchased 2 vehicles from your location in the past with excellent service on both. I am concerned that your jd powers ads are owned by a Chinese group. To much information available to a foreign country that steals our technology. Just my opinion....
I found the wait time a bit long for an oil/filter change ( just over 1 hour) considering I had an appointment. Other than that the service & price was reasonable, and the waiting room was large and comfortable. The staff was friendly and helpful as well. I purchased my car there and the sales team worked with me to get a good price on my trade-in, and the car I wanted at the deal I needed.
Thanks to Cio & the service dept crew...I am now bringing my new chevy(purchased elsewhere;~() to this dealership...Cio went ABOVE & BEYOND I ever expected... I just went in to get my oil changed...& we started talking (she's a GREAT peoples person)...& I was sharing with her my HORRIBLE experience "elsewhere" & she took customer service to the NEXT level...It was the little "details" & that lil bit of extra time she took that made it so wonderful...I cant believe I finally left a Chevy dealership happy!!! Thank you & I WILL be back...;~))))... Honestly can't wait to trade in my new car in & get what I want instead of settling & having a person who has your best interest at heart...that's how you get repeat business & lifelong customers!!!
You know they're a good dealership when you become the 4th, out of 4, family members to buy a Chevy from Starling Chevrolet in DeLand. Very easy to work with!!!
Starling Chevrolet-Cadillac has always had great service with great attention to detail. I have purchased 4 Cadillac's from them. I must say if you are not happy, they find a way to make you happy. They go out of their way to make sure that you receive the customer service you need to make a good decision on the purchase of a automobile. Carlos was my salesman and he was very good., Jorge Magluta was extremely helpful and make sure that I was satisfied with my experience at Starling. Needless to say, the 2015 Cadillac ATS is a dream car and there are not words to say how much I love this car. Thank you to all the folks at Starling, you are to be commended for your great customer service.
Luis Chuck and the rest of the Starling Family did a great job on a no BS straight to the point approach of putting me into a 2015 Chevy Colorado Luxury Package. Finance was a breeze and also Jesus the Recon manager also was very helpful in the purchase. I used to goto the other local chevy dealer but after this week Starling had Gained and earned my loyalty,
Everything ran smoothly. Chuck is a great, non-pressuring salesman. Although OB was not our sales manager, Jeff was, OB was able to close the deal and put everything into understandable terms where we felt comfortable in purchasing our car. They negotiated our trade-in to a manageable point and offered a great price on our car. RJ saved us a lot of money by getting us an awesome apr of 2.81 when our bank could only offer 4.5. We are very happy with our purchase!
If you are looking for a great buying experience, go visit R.J., Dustin, or Carlos at Starling Chevy! R.J. mentioned it was a family run business and that was felt throughout my experience. It was apparent that they wanted to get me the best price possible, at the rate I wanted, while providing great customer service. I would go back to buy from them in a heart beat!!
Very easy transaction with everyone being upfront. There was no back and forth negotiating, I asked for the bottom line price and as given that right away. Did not spend hours at the dealership haggling, like is so often the case.
I would like to thank Starling Chevy for a great car buying experience I felt very welcome at the dealership, I felt like I was treated like family and I would highly recommend that if you are shopping for a new Chevy go see the awesome crew at Starling Chevy Deland and the manager OB went to great extremes to make me feel very good about my purchase! It brought back the excitement of buying and owning a new car again! Thanks again!
Welcome to Starling Chevrolet of Deland
Serving DeLand, Orlando, Sanford, Daytona Beach, New Smryna Beach, and all surrounding areas
Starling Chevrolet of Deland has over 50 years of industry experience. If you are searching for that red hot, new or used car dealer near you, then your DeLand Chevrolet dealer is the right choice. Our expert staff is waiting to assist you in any way possible. We take pride in our dealership near Orlando, FL, the products we sell and the vehicle you drive!
5 Star Service in the DeLand, FL area
Let Starling Chevrolet of Deland be your one-stop Chevy service destination. Our highly qualified technicians are here to provide exceptional service in a timely manner. Our GM-certified staff provides only the best service - from extensive body repairs to basic engine checkups! Trust us for oil changes, brake checks and everything in between. We only service your vehicle with high quality Chevy parts! You count on your vehicle to get you where you need to go, and you can count on Starling Chevrolet of Deland to get you back to cruising in no time flat. At Starling Chevrolet of Deland, you and your vehicle are our #1 priority.
We want to be your Chevy dealer near you in the DeLand, FL for all things Chevy. Let us know how we can help you today here at our
Chevy dealership serving New Smyrna Beach
, Orlando, Sanford, Daytona Beach, and all surrounding areas.
Ask A Question